Valette May Williams
1937-2004
Secretary of the Australian Flora Foundation 1990-2004
President Australian Plants Society NSW 1998-2000
Val was born into the pioneering Robinson family in Townsville, Queensland, which in the 1940s and 50s was still a true frontier town. Her family were known throughout the area as local figureheads of business and the community. Her grandfather, St.John Robinson, managed a rodeo and crocodile zoo atop Mt St.John, so named by the city council in his honour. Apart from running the zoo as manager, St.John became best known for wrestling live crocodiles as part of the zoo's weekly show!
Val wanted a university education, but Townsville at that time was not the kind of place a woman was able to make an educational mark for herself, and so on leaving school in 1954, a typing job was found. It was inevitable, however, that this would not keep her happy for long, and soon enough Sydney and the promise of tertiary education proved too much of a temptation to resist.
Sydney led her to many new experiences, including the university life she'd wanted, and meeting Robert, an academic who became her husband. They married in March 1967. After these diversions she finally completed her BA in 1969. In 1970 she and Bob went on a study trip to England, to further his research on 18th century English literature. They included a sidetrip to Indial. It appears the relief from getting away from the murky weather in England, or perhaps the inspiration of India, provided the impetus to bring forth Dion in 1971 and Claudia in 1974!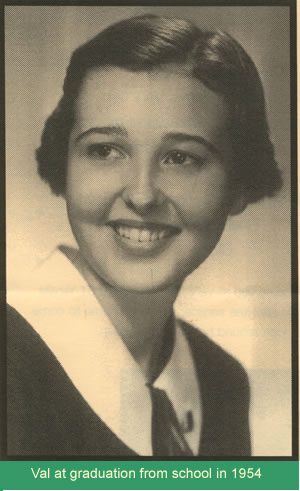 She had a life-long love of Indian music and culture, and of photography and of the theatre. She was involved in the Australian Flora Foundation from shortly after its formation at the International Botanical Congress in Sydney on August 14, 1981. She was elected the Flora Foundation's Secretary in 1990.
When Robert died at the end of 1996, perhaps Val decided it was time to pursue her love of travel and Australian plants. From a casual plant hobbyist and conservation advocate, her determination and enthusiasm led her in just a few short years to become New South Wales president of the then Society for Growing Australian Plants. She amassed a formidable knowledge of Australian plant life and environmental issues, and lobbied business groups and members of government tirelessly to support more effective conservation and environmental practices and policies. Her knowledge of her field, and her skill in using that knowledge to persuade others to help her get the job done, will be greatly missed by her colleagues in all the areas her work encompassed.
Her love of Australian plants and the Australian environment in general took her trekking to Cape York, to the red sands of Ularu, to the Pilbara of Western Australia, and to the wilderness of southwestern Tasmania. Her Cape York trip was reported to have been particularly memorable. One day trip took her group four-wheel driving along a rough rainforest track. Halfway into the journey, as they crossed a flooded creek, the vehicle became bogged in the soft sands of the creek bed, and the party was forced to clamber out and wade some distance to the other side. On reaching the other bank the tour guide commented casually on how lucky they'd all been as the river was usually infested with crocodiles, but as it was in the afternoon, most of them had probably eaten already, so there was really nothing much to worry about!
It was the same courage and commitment she gave to her work that helped her maintain her rigorous schedule and work, as few others could, after her ovarian cancer was diagnosed in 2001. Not one to stand back from wading into the fray of politics simply because nature had decided to make things difficult, she continued with her committee and lobbying work until only days before her passing. Surrounded at home by the garden and birds she loved, even as her physical strength began to wane, her mind never stopped getting ready for the next challenge.
Her keen interest and searching questions will be greatly missed at the meetings of the Foundation, as will her willingness to take on major works, which included the development of the Australian Flora Foundation website. We pay tribute to a very special woman.